blackmagic
production camera 4k
Blackmagic Production Camera 4K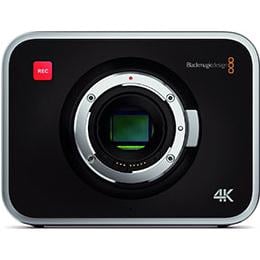 Blackmagic Production Camera 4K
setup instructions for stop motion animation or time-lapse photography with Dragonframe
Supported Versions
Requires Dragonframe 3.7.4 or newer.
Live View
The Blackmagic Production Camera 4K provides a live video stream over its Thunderbolt connection.
Camera Settings
Dragonframe does not control this camera's settings.
Blackmagic Cameras
This setup is for a specific Blackmagic Design camera. There are only two BMD cameras with direct Dragonframe support.
Newer cameras can be used by taking the HDMI output from the camera and bringing it into Dragonframe via another BMD capture device. We recommend using a supported still camera.
Considerations
Dragonframe cannot currently capture DNG files from the Production Camera 4K, because that functionality is not available through the camera's Thunderbolt connection.
Captures 10-bit DPX or 16-bit TIFF (with 10-bit data) from devices that output 10-bit YUV output.
Product Info
You can find the Blackmagic Production Camera 4K manual and specifications at the Blackmagic website.
Create a new scene or open an existing scene. (Dragonframe will not connect to your camera unless you have a scene open.)
Make sure you have the latest Blackmagic Desktop Video software installed. Dragonframe won't detect your device without it.
Connect the device to your computer via a Thunderbolt cable.
In Dragonframe's Preferences | Capture, select Enable Blackmagic module and restart Dragonframe.
Use the camera's SDI Mode to configure the resolution over Thunderbolt.
macOS Note: If you have installed the Blackmagic Desktop Video software, and the device is connected, but the computer doesn't detect it, check System Preferences | Security and Privacy | General to see if the application has been blocked.
Proceed to the Cinematography workspace to adjust the camera settings, check focus, and take test shots.