blackmagic
intensity extreme
Blackmagic Intensity Extreme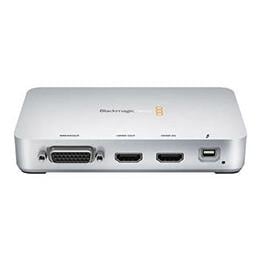 Blackmagic Intensity Extreme
setup instructions for stop motion animation or time-lapse photography with Dragonframe
Supported Versions
Requires Dragonframe 3.7.4 or newer.
Live View
The Blackmagic Intensity Extreme provides a live video stream over its Thunderbolt connection.
Camera Settings
Dragonframe does not control this camera's settings.
HDMI Capture
This Blackmagic device is not a camera, but a device for capturing HDMI (or SDI) into a form your computer can use.
It is useful for providing a video assist from another camera, but will not trigger high-resolution on it.
Create a new scene or open an existing scene. (Dragonframe will not connect to your camera unless you have a scene open.)
Make sure you have the latest Blackmagic Desktop Video software installed. Dragonframe won't detect your device without it.
Connect the device to your computer via a Thunderbolt cable.
In Dragonframe's Preferences | Capture, select Enable Blackmagic module and restart Dragonframe.
You may need to configure the device Input and Connection to match your camera's output. You can do this through the Capture | Video Settings... screen in Dragonframe.
macOS Note: If you have installed the Blackmagic Desktop Video software, and the device is connected, but the computer doesn't detect it, check System Preferences | Security and Privacy | General to see if the application has been blocked.
Proceed to the Cinematography workspace to adjust the camera settings, check focus, and take test shots.